Sit back and relax in the comfort of our deluxe champagne suite, nestled amongst the Vilagrad vines. This room has a king sized bed, flat screen tv, basic kitchenette, including tea and coffee facilities, toaster, sink and refrigerator. This room also has a private ensuite for your comfort, leather couch, table and chairs, and is air conditioned. The large main room features an area which is perfect for a bride and bridal party to prepare hair and makeup for the big day with large mirrors in the main room and bathroom.
You also have access to a therapeutic massage spa among the vines - the perfect place to sit back, relax and enjoy a glass of bubbles.
This room sleeps two, comes with a complimentary bottle of bubbles and continental breakfast hamper for two (which includes cereals, fruits, milk, bread and spreads) with an 10am checkout.
Check in is from 2pm (*earlier check in can be arranged)
See pictures below of deluxe suite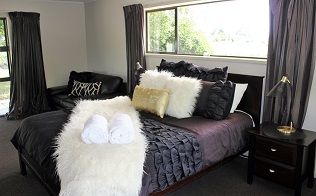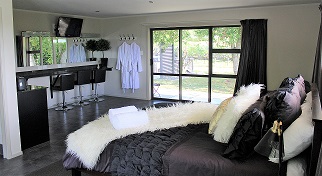 Price for 2 adults per night
1 night - $295
2 nights - $495
3 nights - $699
We are taking bookings now - ring the friendly staff at Vilagrads on +64 7 825 2893 to find out more about our accommodation.
Vilagrad Accommodation Floorplan