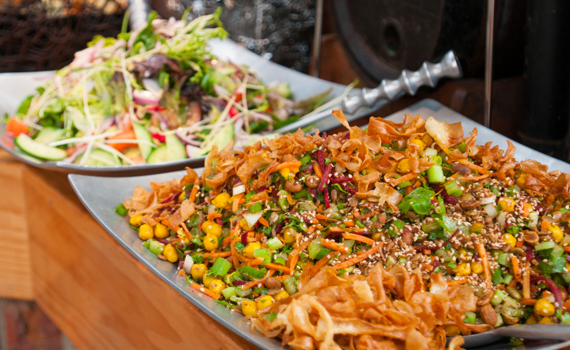 Celebrate your Christmas

with

Vilagrad
Start planning your party for 2023
Party to the sounds of Boogie Monsta & specials guests the 3 Brothers Band.
Full bar facilities available.
7pm until Midnight.
Onsite accommodation available
$105 per head. Drinks not included.
Dates:
Friday 1st, 8th, 15th Dec
Saturday 2nd, 9th,16th Dec
Vilagrad Christmas Banquet.
Enjoy our Vilagrad nibble platters with a selection of breads, dips, and nibbles.
Whole spit roast pork rubbed in spices with spiced crackle, served with cinnamon and apple sauce and traditional gravy. (GF, DF)
Spit roast lamb served with mint sauce and Vilagrad homemade gravy.
Chicken baked in sweet chilli, soy, oyster sauce, ginger, golden sherry with apricot and mixed herbs. Served with homemade stuffing.
Fresh whole baked fish and steamed mussels served with sauteed bok choy, mushrooms and red cabbage with white wine coconut cream. (GF, DF)
Selection of seasonal steamed garden veges with a Croatian roasted pepper sauce. (GF, DF)
Roasted agria potatoes with garlic oil and rosemary.
Mixed lettuce salad with Vilagrad sauce. (GF, DF)
Vilagrad Spanish salad with crisp garden vegetables. (GF, DF)
Indian red lentil dahl with tomato, cumin, coriander and ginger (GF, DF).
Homemade relishes & chutneys. (GF, DF)
Selection of fresh, locally made breads.
Citrus mousse meringue.
Wild berry & blueberry chocolate torte. (DF)
Vilagrad's caramel sauce, whipped cream, natural yogurt & black doris plums.
Amazing Gourmet cheese board to finish and selection of teas and freshly ground coffee
Party the night away and dance to live music from Boogie Monster with special guests the 3 Brothers Band!
Award winning wines
Pinot Gris
Charminer- Waikato's favourite wine
Rosé
Mt Pirongia Pinot Gris
Vilagrad Apple Cider
3 Brothers Chardonnay
3 Brothers Pinot Noir
Mt Pirongia Cabernet Merlot
Sparkling Charminer & Sparkling Pinot Gris
Tawny & Vintage Port